Our mind tends to get lost in what is happening and dive into our thoughts that wander into the past or future. It might seem inconsequential but mindfulness helps us hold touch with our body and prevent our mental state from the effect of anxious thoughts.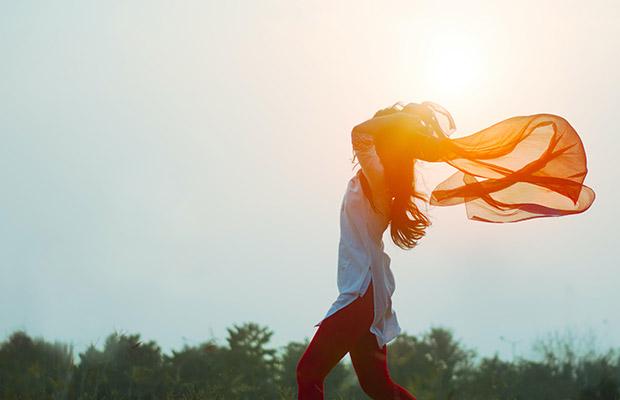 Mindfulness
Mindfulness is the basic ability to perceive the present moment, focus on "here and now" and be present in everything you do, and not overly reactive or overwhelmed by what's going on around us.
The best way to comprehend what
mindfulness
is and what impact it can have on your everyday life is to try it for a while. Since, it might be hard to fathom how mindfulness works, here is general information to help you get acquainted with this powerful skill.
The Definition of Mindfulness
Mindfulness is
the basic ability to perceive the present moment
, focus on "here and now" and be present in everything you do. The best thing about it is that you already possess it and there is no need for you to ideate it.
While mindfulness is innate, It can stay in sleeping mode – which usually happens – or can develop. There are a plethora of proven ways to evolve mindfulness, for instance:
Static or moving meditations (seated, walking, standing meditation; it is also possible lying down but often leads to sleep);
Short breaks during the day;
Merging meditation practice with yoga and other physical activities.
The Benefits of Mindfulness
The positive effects of mindfulness practices are proven scientifically. In addition to maintaining our mental health, it also helps in these ways:
Gaining insight and awareness through observing our own mind
Reducing anxiety and stress;
Improving memory;
Enhancing performance;
Increasing our attention to our well-being.
Mindfulness meditation make us concentrate on our body sensations and identify any stressing triggers that distract us.
Mindfulness meditation gives us a time in our lives when we can suspend judgment and unleash our natural curiosity about the workings of the mind, approaching our experience with warmth and kindness—to ourselves and others.
8 Facts About Mindfulness:
1. Mindfulness is not obscure or exotic. It's familiar to us because it's what we already do, how we already are. It takes many shapes and goes by many names.
2. Mindfulness is not a special added thing we do. We already have the capacity to be present, and it doesn't require us to change who we are. But we can cultivate these innate qualities with simple practices that are scientifically demonstrated to benefit ourselves, our loved ones, our friends and neighbors, the people we work with, and the institutions and organizations we take part in
3. You don't need to change. Solutions that ask us to change who we are or become something we're not have failed us over and over again. Mindfulness recognizes and cultivates the best of who we are as human beings.
4. Mindfulness has the potential to become a transformative social phenomenon. Here's why:
5. Anyone can do it. Mindfulness practice cultivates universal human qualities and does not require anyone to change their beliefs. Everyone can benefit and it's easy to learn.
6. It's a way of living. Mindfulness is more than just a practice. It brings awareness and caring into everything we do—and it cuts down needless stress. Even a little makes our lives better.
7. It's evidence-based.[ We don't have to take mindfulness on faith. Both science and experience demonstrate its positive benefits for our health, happiness, work, and relationships.
8. It sparks innovation. As we deal with our world's increasing complexity and uncertainty, mindfulness can lead us to effective, resilient, low-cost responses to seemingly intransigent problems.
Mindfulness Is Not All in Your Head
When we think about mindfulness and meditating (with a capital M), we can get hung up on thinking about our thoughts: we're going to do something about what's happening in our heads. It's as if these bodies we have are just inconvenient sacks for our brains to lug around.
Having it all remain in your head, though, lacks a feeling of good old gravity.
That approach can make it seem like floating—as though we don't have to walk. We can just waft.
But
meditation begins and ends in the body.
It involves taking the time to pay attention to where we are and what's going on, and that starts with being aware of our body. That very act can be calming, since our body has internal rhythms that help it relax if we give it a chance.
How to Sit for Meditation Practice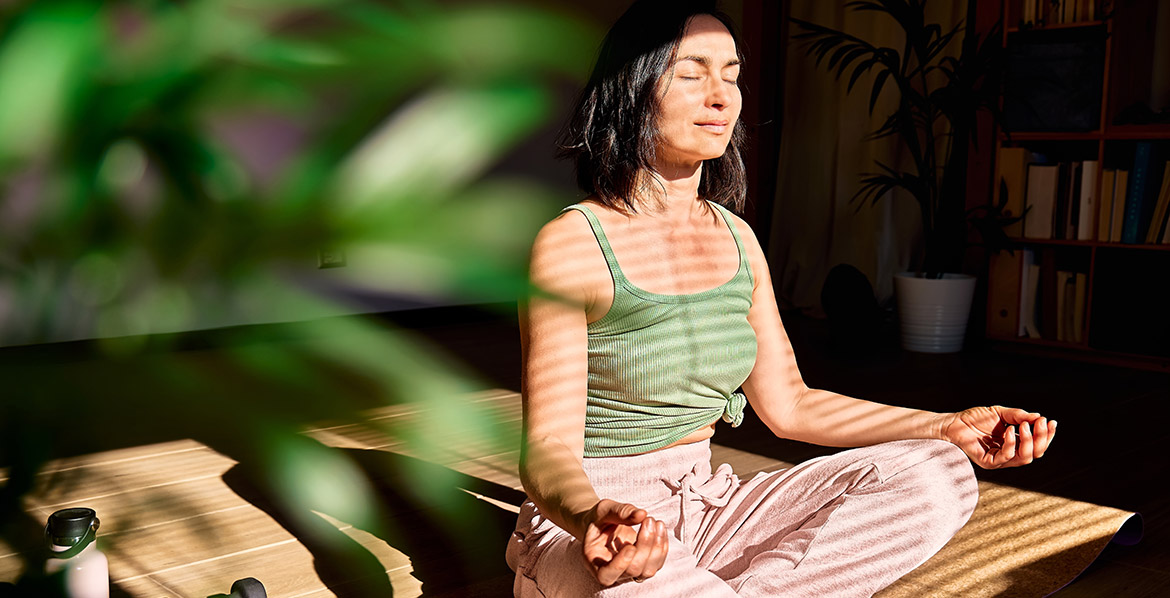 Here's a posture practice that can be used as the beginning stage of a period of meditation practice or simply as something to do for a minute, maybe to stabilize yourself and find a moment of relaxation before going back into the fray. If you have injuries or other physical difficulties, you can modify this to suit your situation.
Take your seat. Whatever you're sitting on—a chair, a meditation cushion, a park bench—find a spot that gives you a stable, solid seat, not perching or hanging back.
Notice what your legs are doing. If on a cushion on the floor, cross your legs comfortably in front of you. (If you already do some kind of seated yoga posture, go ahead.) If on a chair, it's good if the bottoms of your feet are touching the floor.
Straighten — but don't stiffen — your upper body. The spine has natural curvature. Let it be there. Your head and shoulders can comfortably rest on top of your vertebrae.
Situate your upper arms parallel to your upper body. Then let your hands drop onto the tops of your legs. With your upper arms at your sides, your hands will land in the right spot. Too far forward will make you hunch. Too far back will make you stiff. You're tuning the strings of your body—not too tight and not too loose.
Drop your chin a little and let your gaze fall gently downward. You may let your eyelids lower. If you feel the need, you may lower them completely, but it's not necessary to close your eyes when meditating. You can simply let what appears before your eyes be there without focusing on it.
Be there for a few moments. Relax. Now get up and go about your day. And if the next thing on the agenda is doing some mindfulness practice by paying attention to your breath or the sensations in your body, you've started off on the right foot—and hands and arms and everything else.
Begin again. When your posture is established, feel your breath—or some say "follow" it—as it goes out and as it goes in. (Some versions of the practice put more emphasis on the outbreath, and for the inbreath you simply leave a spacious pause.) Inevitably, your attention will leave the breath and wander to other places. When you get around to noticing this—in a few seconds, a minute, five minutes—return your attention to the breath. Don't bother judging yourself or obsessing over the content of the thoughts. Come back. You go away, you come back.
That's it. That's the practice. It's often been said that it's very simple, but it's not necessarily easy. The work is to just keep doing it. Results will accrue.
Meditate with Hapday
your Welbeing Assistant
Join the millions of people using Hapday. Improve overall wellness & sleep.