One time offer
Claim your 75% OFF discount
Your special offer expires soon!
Your special offer expires soon!
Your special offer expires soon!
So, what's included?

28+ self-paced lessons
developed by professional behavioral therapists.

Simple 10 to 30 minute activities
for you to complete each day. Small steps lead to big results.
Weekly assessments
to ensure you follow your achievements and stay on track.
Daily guidance
helping you improve your well-being and keep your anxiety symptoms under control.

Concise content
will help you both understand and manage your emotional state.
Tips on successful mental health management
ensures you always feel in control of your thoughts and emotions.

A customizable habit planner
allows you to track your progress, eliminate bad habits, and create new, healthy ones.

Quick-relief exercises
to help you relax during stressful situations.
A fully personalized guide designed to manage and eliminate stress and anxiety, improve your mood, and boost your self-esteem.
Reduce the symptoms of anxiety through daily guidance – and feel your mental health become your new priority in life.
Forget the pressures of modern life and embrace the person you always wanted to be – at your pace.
Find your focus
By understanding your mind, you allow yourself to find new ways to focus. This, ultimately, leads you to a more organized, happy, and fulfilling life.
Boost your willpower
Harness real self-control and learn how to focus and act on long term goals instead of instant gratification.
Rid yourself of anxiety and stress
Applying simple and effective techniques to cope with overwhelming thoughts or emotions will help you eliminate distractions in life.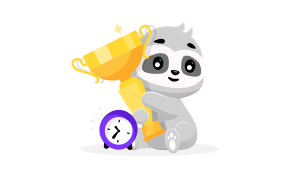 Achieve your goals
Fight back against self-doubt, forget about fear of failure, and reclaim inner peace.
Real people. Real stories.
See how we've helped others:
Andro D. 32
London, UK
Since starting with Hapday, I have experienced a significant decrease in my overall anxiety levels. It's truly remarkable how much more confident I feel now compared to the past several years. Hapday has been instrumental in transforming my well-being, and I couldn't be happier with the results.
James R. 29
LA, USA
Hapday has been a life-changer for me. My self-esteem struggles and anxiety have significantly diminished since I started using it. I feel empowered and in control like never before.
Luke T. 38
Singapore, SGP
The significance of feeling content becomes evident only when it is absent. Hapday has been instrumental in teaching me how to maintain a positive mindset regardless of circumstances. As a result, my everyday life has undergone a remarkable transformation, and I now experience a profound sense of happiness and fulfillment.
One time offer
Claim your 75% OFF discount
Your special offer expires soon!
Your special offer expires soon!
Your special offer expires soon!
Science-based benefits
Vastly improved sleep
We could all do with a little extra beauty sleep, right? Latent stress and anxiety can cause sleep instability – so getting them under control will allow you to finally rest easy.
Boosted positivity
Scientists have discovered a direct link between an increase in productivity and overall happiness. The more you feel you've accomplished, the more those endorphins flow!
Boosted cognitive skills
A group of experts from Nevada, USA, found that by tackling the root causes of both stress and anxiety, our brains are able to put more energy into the day-to-day.
Reduced risk of mental health issues
There is a pretty large correlation between anxiety and stress and the development of severe mental illnesses – such as depression.
People often ask us
What is Hapday?
Hapday is a mobile app designed to help people fight against multiple mental health issues, find their inner peace, and calm their mind.
App content is crafted by behavioral psychologists and you can choose to follow the plan for 1, 3, or 6 months, depending on how you feel.
You'll be able to access the plan and content through the Hapday mobile app – available on both iOS.
What happens after I order?
Your personalized plan has been created using the answers you provided in the quiz – so after you complete your order you'll have full access to it.
In order to access the Hapday app, you will need to download it from the App Store – depending on if you use an iPhone.
You will receive an email with further instructions within 2 hours – if you can't see it, please check your SPAM folder.
Is this a one-time payment?
Hapday is based on a subscription model. You can choose to subscribe to a 1, 3, or 6-month plan.
How can I cancel my subscription?
If you decide to cancel your subscription, you can do so by visiting the "Manage Subscription" page on our website. You can also drop an email to contact@haaaaaaappy.com
How is my plan prepared?
Your personalized plan will be prepared by our experts in behavioral psychology and mental health. Each program is verified to ensure you have access to the most relevant and up-to-date information and tips for your particular situation.
Disclaimer: Results may vary due to individual differences. In addition, mental self-help apps like Hapday are not a replacement for or a form of therapy, nor are they intended to cure, treat, or diagnose medical conditions, including psychiatric conditions. Please consult a qualified health care provider for a medical treatment plan.
© 2023 Hapday. All rights reserved.